Findings: Machinima
Research identified categories of machinima according to methods of production and the creative processes used and through a range of distribution methods. Methods of production identified are:
Perfect Capture is the process by which user actions (input by game controller or other HUI) are recorded in real-time as code (e.g. DEM files in Quake) that can then re-loaded and re-played using the game itself. The relatively small size of such files made it possible for films to be distributed and shared using low-capacity media (such as floppy discs) or pre-broadband internet connections. Functionality such as this was built into the engines of many early 3D, 'first person POV shooter' games (e.g. Doom© and Quake©) to enable players to capture their performances within the game - to demonstrate prowess (e.g. Quake 'Speed Runs') or analyse their faults in order to improve, creating a historical document of a player's actions within the game world (e.g. NoSkill's memorial pages). Further potential for artistic and creative usage was soon realised with the addition of narrative text. Customisation (or hacking) of the game code itself allowed for further departures from the constraints of game play (e.g allowing alternative views, modified graphics or allowing the player to traverse the game in ways not originally permitted - see The Rangers' - Diary of A Camper). An identical game engine (e.g. a compatible computer, identical graphics hardware and same release of game) is required in order for 'perfect' reconstruction of the film. The 'Perfect Capture' method is recognised as the beginning of machinima (Lowood, 2011).
Screen Capture is a filmmaking process whereby films are made as a result of capturing the game's video output. As computing power (especially graphics processors) increased, it became possible for the rendered frames of the game to be captured and subsequently stored in a standard file format, e.g. .avi or .mov. The resulting movie files could then be played back independently of the game engine and / or edited using free or low-cost movie making software, giving the film maker the chance to incorporate more traditional production techniques. Titles such as Sims 2© and Quake 3© allow the user to capture movies with a single key command from within the game and without the need for third-party screen capture software. Although still confined by the constraints of the puppetry allowed within the game, the removal of such barriers to recording resulted in a rapid growth in not only the number of machinima films being made but also diversification of genres. As captured footage can be subsequently edited, the screen capture method provides a documentary (rather than historical document) of action taking place in virtual worlds.
Asset Compositing as a mode of machinima production does not take place directly within the game itself, but instead makes use of assets (characters, scenery, locations and artefacts) extracted from the game either by direct modding of the code or more frequently, by using additional utilities (e.g. WOW Model Viewer©). This method enables the machinimator to style and animate characters individually, subsequently recording the rendered frames by using screen-capture software. More advanced video editing techniques (e.g. chroma-key and audio dubbing) are also used, allowing characters to act out scripted dialogue whilst placed upon backgrounds chosen either from the same game, a different game or another virtual world entirely. By freeing the character from the constraints of gameplay, the machinimator has much greater control over casting, narrative and camera positions and many other aspects, far more closely related to actual filmmaking than either the perfect or screen capture methods. The process is however more complex and requires the maker to acquire and learn additional software, whilst getting to grips with the fundamentals of filmmaking and new machinimators may therefore experience a far steeper learning curve. Tutorial movies do exist some of which are themselves examples of the asset compositing technique.
'Bespoke' machinimation is a mode of production that takes the asset compositing methodology one step further and involves the use of software specifically designed for the creation of 3D animated movies within virtual worlds. Whilst not strictly game engines, programs such as Moviestorm©, iClone© and Moviesandbox© allow the machinimator to choose from a wide range of assets, including characters, scenery and locations. "These programs use the techniques and ethos of machinima, but avoid the complications associated with using game assets" (Fosk, 2011). Animation can be achieved by means of gaming interface (e.g. keyboard, joypad) and additional asset packs (new characters, weapons, etc) can also be downloaded. This form of machinima has opened up the possibility of reaching new audiences, breaking the traditional links with fandom and the 'in-jokes' associated with Perfect Capture. Machinima made in this way is more likely to be focused on the storytelling or filmmaking aspects and can therefore encompass a wider range of themes and appeal to a broader audience. This method of production is the only one which addresses the issue of rights as legitimate licenses are granted.
The scope of machinima has led to a very wide spectrum of usage, summarised in figure 1. In classifying machinima, which now encompasses such a diverse body of work that can be seen over many distribution networks well beyond YouTube, we have developed a matrix using the extent of interaction in the production process and the commercialization of the content arising from it.
Figure 1 Scope of Machinima Applications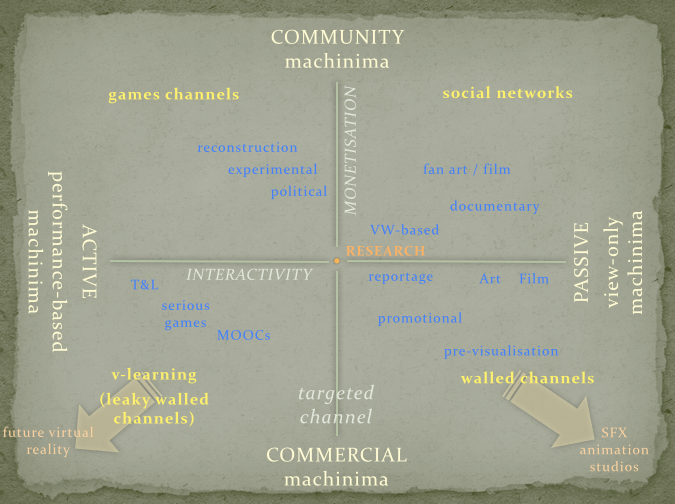 ---
The quadrants are:
Games Channels are channels of distribution that include direct links from in-game menus, on-line gamer communities, fora and other sharing sites that are moderated in some way by the games developer (directly or indirectly). Machinimas distributed through these channels are dependent upon makers' abilities as performers / digital puppeteers. Perfect capture machinima (e.g. Quake DEM files) are the earliest and most clearly defined example - the demonstration of technique to fellow gamers, being their reason d'être. The intended reach of films distributed in this quadrant varies from a global audience (e.g. Xbox One / PS4 networks) to a more selective viewership, representing sub-groups of the gamer community (e.g. gamer clans or guilds). Works made within simulation games (e.g. Sims 2©, The Movies©, GTA 5©) or virtual worlds (e.g. Second Life©) are also performative, as demonstrated through the machinimator's skilled manipulation of characters, scenery and other objects.

The sandbox (or free-roam) nature of such games (in which game rules are fewer and more flexible) allows for greater experimentation, allowing the development story lines and narratives unassociated with the core themes / objectives of the game. As familiarity with the game world is no longer a prerequisite, a much wider audience is potentially available and this is reflected in the channels of distribution, which extend beyond the communities of their 'parent' worlds, leading to forms of machinima that can be described as 'experimental' and 'political'.

Social Networks describe the channels of distribution for a varied range of machinima products, intended for an equally diverse audience of non-game oriented viewers. Such channels are not moderated by the games developer but by the community of viewers whose 'moderation' is indirect through comments and sharing activities across the network of social media (including YouTubeTM, VimeoTM, KoinupTM, etc). The range of subjects traversed by machinimators using these channels includes political and social commentary, comedy, satire, general arts, entertainment, music video and documentaries. Game-play / game culture does not provide the central theme for machinima found here although there are examples where iconic game-worlds have been used as production tools, and yet the final product has maintained its appeal to the non-gamer. This has been achieved through skilled development of the script and dialogue (e.g. World of Workcraft©). There are therefore no restrictions on the choice of production method. Examples can be found at Machinima Expo - "the world's only virtual machinima film festival".

Machinima distributed through these channels is intended to entertain, stimulate and provoke audiences but their direct involvement and / or interaction is not a requirement. To this end, material found here has more in common with gallery-based digital art, film and even TV - namely cinematic and video-based works, to be viewed passively. The primary outlets and hubs are currently the video sharing networks YoutubeTM and VimeoTM, supported by various umbrella sites which form 'embedded' collections or galleries of works stored on their servers (e.g. Machinima.com, Twitch). In either case compressed, rendered frames are uploaded and can be and shared either privately or publicly by community members. It should be noted, however, that restrictions on upload may be imposed by the channel owner in order to comply with copyright / ownership / decency laws. As such, machinima works distributed via popular channels in this quadrant are subject to indiscriminate censorship (Cornblatt, 2011).

Recognized social networks such as Facebook(TM) and Twitter(TM) also contribute to these channels - with the ability to 'like', 'share' and 'retweet' posts providing opportunities to achieve further reach, their main use is to stimulate interest in and drive critical discussion with viewers. In rare cases, mainstream media will also drive viewers to such channels (e.g. Comedy Central's South Park episode 'Make Love Not Warcraft' and UK Channel 4's series 'SuperMes').

The extended possibilities of individual social media platforms to monetize viewing audiences (through overlaid advertising) may further support the development of commercial distribution networks for machinimators. These depend upon the extent of producers' personal social networks and their ability to market their products. Where most successful, viewers are encouraged to become subscribers to personal channels created as sub-sets of the social media platform albeit the machinimator may generate little direct value beyond the miniscule revenue generated from overlaid advertising (based on numbers of viewers).

V-learning ('leaky-walled') channels do not provide works intended for general or recreational viewing. Entry to these channels is granted by invitation, registration or, in the case of monetized models, through subscription. It also differs from Walled Channels as machinima is not considered to be confidential or restricted. The 'opt-in' framework is similar to those found amongst the Gaming Channels, although here the subject matter and themes are unrelated to game-play or gaming culture. Instead, it is suggested that all machinima distributed in this quadrant will in some way lend itself to the dissemination of new knowledge and ideas, either as part of a formal, directed learning programme (e.g. MOOC) or through scenarios based around interactive play or simulation (e.g. Serious Games). We therefore describe this quadrant as virtual-learning, or v-learning channels. We do not see this as the same e-learning, which is internet enabled, because it uses a game context to add depth and richness to the learning environment through enhanced and immersive performance-based experiences. Machinima here will not be completely hidden from general audiences and permission will be granted for selected works (or excerpts) to be viewed outside of the channels. This 'leaky walled' model enables examples and introductory material to be appear in domains where the potential audience (e.g. new v-learners) may reside.

Machinima distributed via these channels will encourage audience participation and interactivity, with viewers also becoming central to some performance. It necessitates that the audience learns the rules of participation sufficient to engage in the core activities of some scripted action. For example, a machinima broadcast of a lecture or seminar based in Second Life© will document not only the actions of the principal character (the 'teacher' or 'professor'), but also of those other audience members in attendance (the 'learner').

Walled channels Machinima distributed in this quadrant is intended for viewing within private networks (e.g. investors, colleagues, co-developers). Works are not intended for general community viewing and may be prevented from entering the public domain for reasons of confidentiality, security, copyright, etc. Audiences are unlikely to be motivated by game-specific subjects or themes and therefore the machinimator's production environment can be chosen on the basis of suitability and / or personal preference. The use of bespoke packages (e.g. iClone©, Moviestorm©) or commercially available games engines (e.g. UE4©) is common for machinima distributed through walled channels. Whereas the creation of machinima works will be equally dependent upon expertise and knowledge of chosen platform, the emphasis moves away from performance and towards more general cinematic and artistic production techniques (e.g. scripting, asset compositing, editing, voice-over, special effects). The use of 3D game-engines as pre-visualization (or pre-viz) tools during the pre-production stage of commercial film production (Nitsche, 2009) is a good example of machinima distributed via walled channels. Ultimately, machinima in this quadrant may become viewable for more general audiences but it may also be subsumed within other genres of creativity (such as live action film) before it reaches a passive and paying viewer.
---